1º Lugar: Street Fighter 2
Ano
: 1991
Produtora
: Capcom
Street fighter 2 revolucionor o quesito jogo de luta, ao falar em jogo de luta sempre lembramos de street fighter. A maior obra prima da Capcom esta sendo reecriado nesse ano de 2008 (sentiram ai a panca do jogo)!
Curiosidade sobre o jogo que fora do japão a Capcom rebatizou o Mr Bison como Balrog, que era o nome do toureiro espanhol rebatizado Vega; que era o nome do chefe final, esse batizado como M. Bison.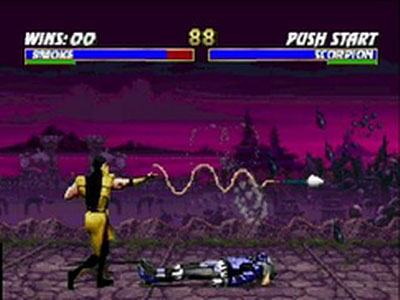 2º lugar: Mortal Kombat
ano
: 1992
Produtora
: Midway
O simples fato de ta aqui alem de ser um dos melhores jogos de luta de todos os tempos foi la onde começo os nossos velhos conhecidos FATALITY, BRUTALITY, BABALITY e dentre outros e sem conta a voz do final FINISHIM!!! e o COME HERE do Scorpion!
sem mais comentarios
xD
3º Lugar: The King of Fighters 2002
ano
: 2002
Produtora
: Snk
A série the king of fighters sempre foi sucesso mais o KOF 2002 foi o melhor de todos eles
varios jogadores, alguns novos outros veteranos, alguns ja clássicos, o melhor chefão de toda série RUGAL. Além de tudo isso é bem divertido.
4º Lugar: Marvel vs Capcom series
ano:
1996 ate esses tempo
Produtora
: Capcom
Marvel vs Capcom series inovou por conta de poder escolher 2 jogadores e alternalos em meio a partida e ainda trazer grandes nomes como Homem-Aranha, Hulk, Homem de Ferro, Ryu, Megaman e dentre muitos outros.
5º Lugar: Tekken series
Ano
: 1995 ate 2008
Produtora
: Namco
Apesar de não gostar muito de Tekken tenho que da o braço a torce que é um joguinho ate interessante e um dos unicos jogos de luta em 3D que saiu descente. Desde Tekken 1 ate hoje vem fazendo sucesso e carregando uma legiao de fãz.